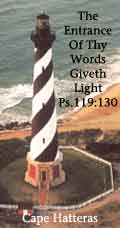 Dedicated To The Men of God Who Preach the Word of God As It Is To Men As They Are



Sermons By George B. Duncan

George B. Duncan is a well know speaker and author. He was ordained in 1937 and was pastor of churches in Carlisle, Edinburg,
and Cockfosters, Scotland. Beginning in 1947 he was a speaker at the famous Keswick Convention and for many years was the Chairman and President of the Movement for World Evangelization. He retired from the pastoral ministry in 1977. He is the author of many books including:
1. Wanting the Impossible
2. Mastery In The Storm
3. Living The Christian Life
4. Pastor and People
5. The Renewing Spirit
6. Sustained by Joy
7. A Preacher's Life Of Jesus
8. Day By Day
He is a very masterful sermon builder!

Sermon Title Text Find

Proving God
Mal. 3:10

The Temptation Of Jesus
Matt. 4:1

Marks Of Christian Normality
Matt. 6:1-18
God's Recipe For Living
Matt. 6:33
The Answer To Anxiety
Matt. 6:34


Site created by Tom Walker