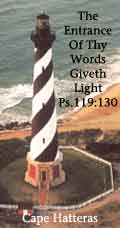 Dedicated To The Men of God Who Preach the Word of God As It Is To Men As They Are

"The Devil Wants You"

Luke 22:31-34
"And the Lord said, Simon, Simon, behold, Satan hath
desired to have you, that he may sift you as wheat: But I
have prayed for thee, that thy faith fail not: and when
thou art converted, strengthen thy brethren. And he said
unto him, Lord, I am ready to go with thee, both into prison,
and to death. And he said, I tell thee, Peter, the cock shall
not crow this day, before thou shalt thrice deny that thou
knowest me."
Tell the story of how Satan got hold of Peter and caused
him to deny Jesus. In like manner, he wants to get hold
of us.

I. THERE IS A DEVIL
Give various instances of his work in the Bible. Eve
and Job and Jesus—their experiences with him.

II. HE WANTS EVERY SOUL
I Peter 5:8 — "Be sober, be vigilant; because your
adversary the devil, as a roaring lion, walketh about,
seeking whom he may devour."

III. WHAT DOES SATAN WANT US TO Do?
1. He wants us to drift away from the church.
2. He wants us to be "at ease in Zion."
3. He wants us to neglect the Bible.
4. He wants us to quit praying.
5. He wants us to lower our standards.
6. He wants us to criticize the Church.
7. He wants us to lose our tempers.
8. He wants us to act "childishly."
9. He wants us to put of the matter of serving Christ.

IV. How CAN WE DEFEAT SATAN?

1. We can pray much.
2. We can stay close to Christ.
We can resist the devil.
4. We can get busy for God.
5. We can trust in God's strength for deliverance.
The devil is strong. Only One is stronger and that is Christ.
Let us flee to Him for help when Satan assails us.
A Sermon by Dr. Herschel Ford

E-Mail