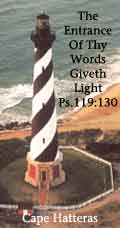 Dedicated To The Men of God Who Preach the Word of God As It Is To Men As They Are










"Preach The Word"

Dot Jackson, the wife of the late Evangelist Maze Jackson,
is still putting out the monthly magazine- "The Preachers Goldmine."
It has 16 outlines included in the magazine.
If you are interested in receiving this every month from
Mrs. Jackson, simply use the following address, and send a $20.00
check or money order as a subscription fee for one year.
Be sure and let the Jacksons know if you heard about
the magazine through Preachers Corner Org.
Land Mail Address:
The Preacher's Goldmine
PO Box 6
Atlanta, GA 30301
(The e-mail address below is
that of Dr. Tom Walker- Founder of the Preacher's Corner Org.)