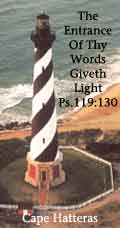 Dedicated To The Men of God Who Preach the Word of God As It Is To Men As They Are

Sermons By the late Dr. J.B. Jordan
Cummings, Georgia

Fire Alarm or False Alarm
Ex. 3:2
It Had To Be Love
1 Jn. 5:5-12
It Is Finished
Jn.19:30
Make Sure Your Sins Will Find You Out
2 Kings 5:20-27
Some Things A Christian Should Never Forget
Isa.49:15
The Kind of Men Needed In Every Church
1 Chron.11:7-19
The Vow Jephthah Made
Judges 11:1-35
There Was A Great Cry
Ex.12:1
You Don't Have To Apologize
Rom. 1:16
What Has Happened To The Fire
No text
Obituary
Many of you probably knew him over the years. He was a great friend to missionaries. Rev. J.B. Jordan, age 76 of Cumming, passed away Wednesday, January 2, 2008. He was preceded in death by his parents, Joe & Bessie Jordan and great grandchild, Brandalyn Mobley. Rev. Jordan was a licensed and ordained minister for 50 years and pastored Victory Baptist Church for 20 years, True Way Baptist Church for 2 years and other Baptist churches. Survivors include: wife of 53 years, Paula "Hunkie" Jordan of Cumming; son and daughter-in-law, Tony and Kim Jordan of Woodstock; daughters and sons-in-law, Vickie and Hal Rey and Kathy and Daniel Samples all of Cumming; brother and sister-in-law, Dennis and Janice Jordan of Franklin, GA; sisters, Videra Bone of Mableton and Bobbie Nell Alexander of Dallas; sister and brother-in-law, Darlene and Glenn Townsend of Powder Springs; 2 grandchildren, Christi & Brian Mobley of Duluth and Caleb Samples of Cumming; a number of nieces, nephews and other relatives also survive.\
Funeral services will be held Saturday, January 5, 2008 at 11:00 am at Cumming Baptist Church with Rev. Fred Howard and Rev. Daniel Samples officiating.
Interment will follow in Sawnee View Memorial Gardens. Visitation will be on Thursday, January 3, 2008 from 6:00 p.m. to 9:00 p.m. and Friday, January 4, 2008, from 1:00 p.m. to 3:00 p.m. and 6:00 p.m. to 9:00 p.m.
Ingram Funeral Home & Crematory, Cumming, Georgia will be in charge of arrangements .