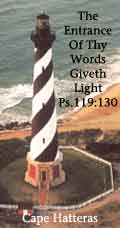 Dedicated To The Men of God Who Preach the Word of God As It Is To Men As They Are


"Preach The Word"




New Year's Sermons
A NEW YOU IN '98

Text: Romans 8
INT. There are Christians who go through life in spiritual poverty when the Bible declares that we are joint heirs with Christ to all of the riches of God. Listen to what can be ours in Christ Jesus.

I. A NEW POSITION
But listen to what Paul said about those who are in Christ. The judge is
God himself. And the decision that comes ringing forth is, "Not guilty."
There is no longer any condemnation for those in Christ Jesus (v. 1). We
are in a new position before God because of Christ.
II.A NEW POTENTIAL
Paul said that in Christ we can change that direction. Jesus not only gives us a new position before God but he also plants within us a new inclination toward life, a potential for growth and development and maturity.
III.A NEW POWER
In addition to a new potential, Christ provides the power to realize that potential. The resurrection power which raised Christ from the dead is also available to us as Christians (v. 2).
IV.A NEW PERSPECTIVE
We know that God is in charge of the present, so we can keep going. In verse 18 Paul declared that the Christian can handle suffering because he knows that the present suffering does not compare with the things God has prepared for us. We know that God is in charge of the future, so we can keep going.
V.A NEW PERMANENCE
Paul listed all of the things that threatened man in verses 3 1-33. Then he concluded that nothing could ever separate us from God' s love in Christ.
These promises are for us. To claim them today will enable us to be transformed into the new person God wants us to be.
SERMON FROM MAZE JACKSON
Absent From the Body- Present With the Lord