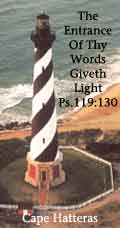 Dedicated To The Men of God Who Preach the Word of God As It Is To Men As They Are





WHOM WILL YOU SERVE IN THE COMING YEAR?

TEXT: Joshua 24: 14,24
INTRODUCTION: We will always serve some god. We are never free creatures. Many say, "We will have no God to rule over us." But all are ruled by some god.

I. SOME SERVE THE GOD OF MATERIAL THINGS
The translation of I Timothy 6:10 is "The love of money is the root of all kinds of evil." Because of the love of money men break God's holy day.

II. SOME SERVE THE GOD OF PLEASURE
If there ever was a land that was pleasure mad, that land is America. Everything seems to be catering to the satisfaction of our senses; every night must be given over to pleasure.

III. SOME SERVE THE GOD OF HEALTH
Health is a blessing from God. A strong body is indeed a good thing. But some people put health and exercise before God.

IV. SOME SERVE THE GOD OF TIME
Time is a great gift of God. How do you use it? It can be used to bring joy to others and glory to God or it can be wasted on those things that benefit no onc.

V. WE SHOULD SERVE THE GOD OF HEAVEN
1. We should serve Him because He is the true God.
He is the One who deserves our service, the One above all others.
2. We should serve Him because our influence will be greater. People see you every day, and your Christian influence as they watch you is a blessed thing. What is your influence in your home, your business, among your friends?

From Outlines Complied By Evangelist Maze Jackson