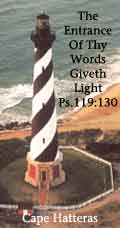 Dedicated To The Men of God Who Preach the Word of God As It Is To Men As They Are





More Sermon Outlines You Can Use !
Going Forth In The Name Of God
1 Sam. 17:45

When God Calls
Isa. 6:1
God Is Working
Jn. 5:17
The Unequaled Word
Jn. 7:37-46
Hereafter, Not Now
Jn. 13:7-8
The Man Cornelius
Acts10:1-8,19-22
Shining As Lights In A Dark World
Eph. 2:1-16
Remembrance
1 Tim. 2:4
Family Privileges and Responsibilities of God's Children
I Jn. 2:1-4

OTHER SERMONS TO FOLLOW !