Dr. Andrew Telford
Compact Disk
Memorial Album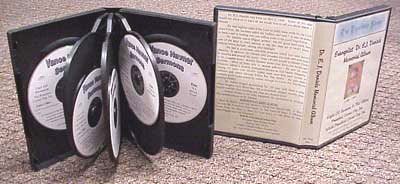 (1895 - 1997)
Dr. Andrew Telford was one of the great Bible teachers of this past century. He had the unique ability to open up pages of Scripture and make them come alive.
Dr. Telford pastored churches in both Canada and the United States. His last pastorate (Berachah Church in Philadelphia, Penn.) spanned some 24 years. After this pastorate, Dr. Telford began a Bible teaching ministry that covered the Eastern United States from Canada to Florida. He had a particular fondness for young preachers.
In an interview with Decision Magazine on the occasion of his 91st birthday, Dr. Telford stated the following : "Bible study and preaching have been my delight. Christian service is not overwork but overflow. The thought of retiring has never entered my mind. I look forward to the next year of service, expecting it to be the best year yet.
Dr. Telford went home to be with the Lord in November of 1997 at the age of 102."
There are eight studies in this album:
Motives For Ministry - The Work of Christ Expounded-
The Downfall of Peter - The Restoration Of Peter-
The Fruit of the Spirit - Why Some Christians Don't Bear Fruit-
Fruit Bearing Christians - Remodeling Your Prayer Life
(Item # TECDAL)
Click on blinking ball below to
hear a clip of Dr. Telford's teaching.:

This can be yours for a $30.00 or more donation.
(no additional postage or handling need be added)
When your gift is received your album will be sent.
To order--click on graphic that says, "Order Now."