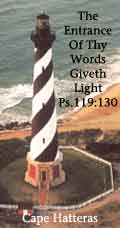 Dedicated To The Men of God Who Preach the Word of God As It Is To Men As They Are



Sermon Outlines by
Dr. R.A. Torrey

(1856-1928)
R. A. Torrey (1856-1928), an American evangelist, pastor, educator, and writer. Called by D. L. Moody to head Bible institute in Chicago (now Moody Bible Institute). Dean of Bible Institute of Los Angeles. Pastorates included Chicago Avenue Church (now Moody Memorial) and Church of the Open Door, Los Angeles. Worldwide evangelistic meetings with Charlie Alexander. Founded Montrose Bible Conference, PA. Wrote more than forty books.
TEXT
TITLE
OPEN
Jn. 3:16
The Most Wonderful Sentence
Ever Written
Rom.14:12
What Will The Verdict Be?
Heb. 11:6
God Is
Look below for various sermons written or complied by Dr. R.A. Torrey.
There are several outlines that may be starters for you to use.
REGENERATION
"Jesus answered and said unto him, Verily, verily,
I say unto thee, except a man be born again, he
cannot see the kingdom of God." - John 3:3.
I. REGENERATION IS AN ABSOLUTE
NECESSITY.
II. WHAT REGENERATION IS NOT.
1. It is not going to church.
2. It is not good works.
3. It is not reformation.
4. It is not baptism.
5. It is not the Lord's Supper.
III. NECESSARY FOR EVERY ONE WITHOUT
REGARD TO CHARACTER OR REPUTATION.
IV. NOT THE WORK OF MAN, BUT OF GOD.
4. Singing a new song.
5. Seeing sainted ones in glory.
V. WROUGHT THROUGH FAITH IN JESUS
CHRIST.
VI. ACCOMPLISHED BY THE HOLY SPIRIT.
VII. THE ONLY WAY TO SEE HEAVEN AND
HEAVENLY THINGS.
1. Changed into a new man with a new
nature.
2. With power to overcome temptation.
3. Fitness to dwell in heaven.
- Dwight Lyman Moody

THE GOSPEL - I
"The Spirit of the Lord is upon me, because he bath
anointed me to preach the gospel to the poor." -
Luke 4:18.
I. WHAT IS THE GOSPEL?
II. GOOD TIDINGS.
1. Takes away the fear of death.
2.Tells us we shall rise again.
3. Promises the forgiveness of sins.
4. Gives assurance of everlasting life.
5. Proclaims God's love for even the chief of
sinners.
- D. L. M.

THE GOSPEL - II
"The Spirit of the Lord is upon me, because he hath
anointed me to preach the Gospel to the poor." -
Luke 4:18.
I. TO WHOM SHALL THE GOSPEL BE
PREACHED?
1. To every creature.
2. To the sinning and to the-unworthy.
3. To all who take the place of guilty sinners
II. FOR WHOM IS THERE BLESSING?
1.For all the poor and needy.
2. For those who believe Christ died in their stead.
3. For all who accept Him.
- D. L. M.
CHRIST AS DELIVERER
Shall the prey be taken from the mighty, or the lawful
captive delivered? But thus saith the Lord, Even the
captives of the mighty shall be taken away, and the
prey of the terrible shall be delivered: for I will
contend with him that contendeth with thee, and I will
save thy children." - Isaiah 49:24, 25.
I. THERE ARE TWO CLASSES OF PEOPLE.
1.Those bound by Satan.
2. Those delivered by Jesus.
II. SOME DO NOT KNOW THEY ARE
BOUND BY SATAN.
III. ALL ARE BORN INTO SLAVERY.
IV. CHRIST CAME TO DELIVER THE
CAPTIVES.
V. THE PROCLAMATION OF
DELIVERANCE IS TO ALL.
VI. TO KNOW THE TRUTH IS TO BE
MADE FREE.
VII. CHRIST DELIVERS NOW FROM THE
POWER OF EVERY SIN.
VIII. ALL WHO BELIEVE IN HIM ARE
DELIVERED.
- D. L. M.
COMPASSION OF CHRIST
"And Jesus went forth, and saw a great multitude, and
was moved with compassion toward them, and he
healed their sick." -Matt. 14:14.
I. CHRIST KNOWS THE HISTORY OF
EACH ONE OF US.
II. HE IS MOVED WITH COMPASSION
WHEN WE TELL IT OVER TO HIM.
III. A SINNER'S CONFESSION MOVES
CHRIST WITH COMPASSION.
IV. CHRIST HAS COMPASSION FOR ALL
KINDS OF SINNERS.
V. HE RECEIVES ALL WHO COME TO
HIM WITH ANY DISTRESS.
VI. THE SAD STORIES OF YOUR LIFE WILL
MOVE HIS HEART WITH COMPASSION.
- D. L. M.
CHRIST'S MISSION TO THE WORLD
"For the Son of man is come to seek and to save that
which is lost." -Luke 19 :10.
I. GOD SENT HIS SON INTO THE WORLD
TO DO A WORK.
II. HE GAVE HIM POWER TO DO THAT
WORK.
III. ASK HIM TO USE HIS POWER IN
YOUR BEHALF.
IV. HE GIVES AN INSTANTANEOUS
SALVATION.
V. HIS SALVATION IS GENUINE AND
THOROUGH.
VI. SALVATION IS FOR THOSE WHO ARE
LOST.
VII. TAKE THE PLACE OF A LOST SINNER
AND BE SAVED.
-D. L. M.

RETRIBUTION
"Son, Remember."- Luke 16:25.
I. THERE IS EVERLASTING RETRIBUTION,
FUTURE PUNISHMENT.
II. THERE WILL BE A QUICKENED
MEMORY AND CONDEMNATION FOR ALL
SIN.
III. THE BIBLE PLAINLY TEACHES FUTURE
RETRIBUTION.
IV. JUSTICE DEMANDS THAT THERE BE
FUTURE RETRIBUTION.
V. THERE IS A PLACE WHERE JESUS
WILL NOT COME OFFERING SALVATION.
VI. PRESENT CHRISTIAN PRIVILEGES
DESPISED, WILL THERE BE REMEMBERED
FOR JUDGMENT.
VII. A REAPING IN KIND MUST FOLLOW
THE SOWING OF TARES.
VIII. GRACE REFUSED HARDENS THE
HEART AND MAKES FUTURE
RETRIBUTION MORE SURE
IX. MERCY SPURNED MAKES A DEATHBED
THE FEARFUL BEGINNING OF
UNENDING PUNISHMENT.
LOVE
"Finally, brethren, farewell. Be perfect, be of
good comfort, be of one mind, live in peace: and the
God of love and peace shall be with you."-2 Cor.
13:11.
God is love.
I. HIS LOVE IS UNIVERSAL.
II. HIS LOVE IS UNCHANGEABLE.
III. HIS LOVE IS EVERLASTING.
BELIEVING ON HIM.
IV. HIS LOVE IS UNFAILING
CONFESSING CHRIST
"For with the heart man believeth unto righteouness,
and with the mouth confession is made unto salvation.
II. SOME PROFESSED CHRISTIANS ARE
MORAL COWARDS.
III. CHRISTIANS ARE IN DARKNESS BECAUSE
THEY DO NOT CONFESS CHRIST.
IV. PRIDE IS THE ONE HINDRANCE TO
THEIR CONFESSION.
V. CHRIST CONFESSES IN HEAVEN THOSE
WHO CONFESS HIM ON EARTH.
VI. CONFESSING CHRIST BRINGS GREAT
BLESSINGS IN THIS LIFE.
VII. CONFESSION OF SALVATION
THROUGH CHRIST LEADS OTHERS TO HIM.
-D. L. M.
THE SAVIOR LIFTED UP, AND THE
LOOK OF FAITH
"As Moses lifted up the serpent in the wilderness,
even so must the Son of man be lifted up: that
whosoever believeth in him should not perish, but
have eternal life." - John 3:14, 15.
"And I, if I be lifted up from the earth, will
draw all men unto me. This he said signifying
what death he should die."John 12:32, 33.
The object was to save men from perishing.
I. CHRIST MUST BE LIFTED UP AS THE
SERPENT WAS IN THE WILDERNESS.
1. As a remedy for sin.
2. As a full and adequate remedy.
3. As a present remedy.
4. As a divinely certified remedy.
5. As one crucified for the sins of men.
II. CHRIST MUST BE LOOKED AT WHEN HE
IS LIFTED UP.
1. Look expecting divine power to save.
2. Looking to Jesus implies that we look
away from our selves.
3. Salvation must be the object for which they look.
4. Sinners must look to Christ as a remedy for
all sin.
5. Sinners may look at once without the least
delay.
6. Must look, for blessings, not to works, but to
faith.
REMARKS
1. A great multitude will be saved.
2. Faith is here put to the test.
3. Many perish through mere unbelief.
4. Many are stumbled by the simplicity of the
Gospel.
5. Natural man seeks for a way of salvation
credital unto himself.
6. Many have religion, but with Christ out of
view.
7. Many are looking for some wonderful sign or
token.
8. Many also perish from delay.
9. Some are driven off into the wilderness
through despair.
10. Others neglect to look because they think they
are improving.
11.Many refuse to look because full of doubts.
12. Sinners look every other way but toward
Christ.
- C. G. F.
THE EXCUSES OF SINNERS CONDEMN
GOD
"Wilt thou even disannul my judgment? Wilt thou
condemn me, that thou mayest be righteous?" -
Job 40:8.
I. EVERY EXCUSE FOR SIN CONDEMNS
GOD
1. Nothing can be sin for which there is a
justifiable excuse.
2. If God condemns that for which there is a good
excuse, He must be wrong.
3. But God does condemn all sin.
4. Consequently every excuse for sin charges
blame upon God.
II. CONSIDER SOME OF THESE EXCUSES IN
DETAIL
1. Inability.
2. Want of time.
3. A sinful nature.
4. Willing to be a Christian, but hindered.
5. Waiting God's time.
6. Circumstances are very peculiar.
7. Temperament is peculiar.
8. Health is too poor to go to the meetings.
9. The heart is so hard there is no feeling.
10. My heart is so wicked I can't.
11. My heart is so deceitful.
12. I have tried to become a Christian.
13. It will do no good to try.
14. I have offered to give my heart to Christ, but
He won't receive me.
15. There is no salvation for me.
16. I cannot change my own heart.
17. I cannot change my heart without more
conviction.
18. I must first have more of the Spirit.
19. God must change my heart.
20. I can't live a Christian life if I were to become
a Christian.
21. This is a very dark and mysterious subject.
22. I can't believe.
23. I can't realize these things.
III. ALL EXCUSES FOR SIN ADD INSULT TO
INJURY
1. A plea that reflects injuriously upon the
court is an aggravation of the original crime.
2. A plea that is false, made in selfjustification,
is an aggravation of the crime
charged.
3. It is truly abominable for the sinner to abuse
God and then excuse himself for it.
REMARKS
1.No sinner under the light of the Gospel lives a
single hour in sin without some excuse to justify
himself.
2. Excuses render repentance impossible.
3. Sinners should lay all their excuses at once
before God.
4. What infinite madness to rest on excuses
which you dare not bring before God now.
5. Sinners don't need their excuses. God does not
ask for even one.
6. Sinners ought to be ashamed of their excuses
and repent of them.
7. Admit your obligation and you are, of course,
stopped from making excuses.
8. To admit the obligation and still plead excuses
is to insult God to His face and charge Him with
infinite tyranny.
- C. G. F.
THE SPIRIT NOT STRIVING ALWAYS
"And the Lord said, My spirit shall not always strive
with man." - Gen. 6:3.
I. WHAT IS IMPLIED IN THE ASSERTION,
"MY SPIRIT SHALL NOT ALWAYS STRIVE
WITH MAN"?
1. That the Spirit does sometimes strive with
man.
2. That men resist the Spirit.
II. WHAT IS NOT INTENDED BY THE
SPIRITS STRIVING?
III. WHAT, THEN, IS THE STRIVING OF THE
SPIRIT?
IV. HOW MAY IT BE KNOWN WHEN THE
SPIRIT OF GOD STRIVES WITH AN
INDIVIDUAL?
1. When one finds his attention arrested to the
great concerns of his soul.
2. When a man finds himself convinced of sin.
3. When the mind is convicted of the great guilt
and ill desert of sin.
4. When the soul is convicted of the guilt of
unbelief.
5. When men see the danger of dying in their
sins.
6. When sinners feel the danger of being given
up of God.
7. When sinners are convicted of the great
blindness of their minds.
8. When sinners are shown their total alienation
from God.
9. When men are convinced that they are
ashamed of Christ.
10. When sinners are convicted of worldly
mindedness.
11. When such a personal application of the truth
is made as to fasten the impression.
12. When sinners are convinced of the enmity of
their hearts against God.
13. When sinners are powerfully convicted of the
deceitfulness of their own hearts.
14. When, not infrequently, the sinner is stripped
of his excuses, and clearly shown his great folly and
absurdity.
15. When men are convicted of the folly of
seeking salvation in any other way than through
Christ alone.
16. When men are convinced of the great folly
and madness of clinging to an unsanctifying hope.
17. When sinners are convinced that all their
goodness is selfish.
18. When self-deceived men feel that they are
now having their last call from the Spirit.
V. WHAT IS INTENDED BY THE SPIRIT'S
NOT STRIVING ALWAYS?
VI. WHY GOD'S SPIRIT WILL NOT STRIVE
ALWAYS.
1. Because longer striving will do the sinner no
good.
2. Because to strive longer not only does the
sinner no good, but positive evil.
3. Because sinners sin willfully when they resist
the Holy Ghost.
4. Because their resistance tempts the
forbearance of God.
5. Because there is a point beyond which
forbearance is not a virtue.
VII. CONSEQUENCES OF THE SPIRIT'S
CEASING TO STRIVE WITH MEN.
1. A confirmed opposition to religion.
2. An opposition to revivals and to Gospel
ministers.
3. Men betake themselves to some refuge of lies
and will settle down in some form of fatal error.
4. Those who are left of God come to have a
seared conscience.
5. This class of sinners will inevitably wax worse
and worse.
6. Another consequence of being abandoned by
the Spirit will be certain damnation.
7. Again Christians find themselves unable to
pray in faith for such sinners.
8. When the Spirit has ceased to strive with
sinners no means whatever, employed for the
purpose, can be effectual for their salvation.
REMARKS
1. Christians can account for the fact why
there are some for whom they cannot pray.
2. Sinners should be aware that light and guilt
keep pace with each other.
- C. G. F.
GOD'S LOVE COMMENDED TO US
"But God commendeth His love towards us, in that
while we were yet sinners, Christ died for us" -
Romans 5:8.
I. HOW DOES GOD COMMEND HIS LOVE
TO US?
II. WHY DOES HE COMMEND HIS LOVE TO
US?
III. HE WOULD SHOW THAT HIS LOVE IS
UNSELFISH.
IV. AGAIN GOD DESIGNED TO REVEAL
THE MORAL CHARACTER OF HIS LOVE
FOR MEN, ESPECIALLY ITS JUSTICE.
V. HE SOUGHT IN THUS COMMENDING HIS
LOVE TO US TO SUBDUE OUR SLAVISH
FEAR.
VI. HE WOULD LEAD US TO SERVE HIM IN
LOVE AND NOT IN BONDAGE.
REMARKS
1. We see that saving faith must be the heart's
belief of this great fact that God so loved us.
2. God would have men see His love in the gift of
His own dear Son.
3. Men find it difficult to repent because they
do not receive this great fact in simple faith.
4. In no other way could God so forcibly
demonstrate His great love to our race.
5. If we had been His friends, there had been no
need of His dying for us.
6. It is not sinless beings but sinful men that
move God's heart to its very foundations.
7. Christ died for us that He might save us;
not in but from our sins.
8. You must infer that Jesus is willing to save you
from wrath if you truly repent and accept Him as
your Saviour.
9. You may infer that God, having spared not
His Son, will also with Him freely give you all
things else.
- C. G. F.
SALVATION OF THE LORD
"Salvation is of the Lord."-Jonah 2:9.
Where Jonah learned this sentence of good theology!
I. AN EXPOSITION OF THE DOCTRINE OF
SALVATION.
1. The plan of salvation is entirely of God.
2. It was of the Lord in execution.
3. It is of the Lord in the application of it.
4. It is the Lord who sustains the work in any
man's heart.
5. The ultimate perfection of salvation is of
the Lord.
II. HOW GOD HAS HEDGED THIS
DOCTRINE ABOUT. 1. Salvation is not the
result of natural temperament. 2. It is not the
minister who converts men.
III. WHAT IS -WHAT SHOULD BE THE
INFLUENCE OF THIS DOCTRINE UPON
MEN?
1. With sinners it is a great battering-ram against
their pride.
2. With saints it keeps from error and distrust.
3. It nerves one to work for God.
IV. WHAT IS THE OBVERSE OF THIS
TRUTH?
1. Salvation is of God: then damnation is of
man.
- C. H. S.
SALVATION TO THE UTTERMOST
"Wherefore he is able to save them to the
uttermost that come unto God by him, seeing he
ever liveth to make intercession for them." - Heb.
7:25.
Revelation affords us a complete history of
salvation. Nowhere else can we find any trace
thereof.
I. THE PEOPLE WHO ARE TO BE SAVED.
1. Where these people come to.
2. How they come.
3. What do they come for?
4. In what style do these persons come?
II. WHAT IS THE MEASURE OF THE
SAVIOUR'S ABILITY?
1. To the uttermost extent of the sinner's guilt.
2. To the uttermost of the sinner's rejection of
Him.
3. To the uttermost of the sinner's despair.
4. To the uttermost of the saint's distress.
THE ROYAL PREROGATIVE
"He that is our God is the God of salvation: and
unto God the Lord belong the issues from death. But
God shall wound the head of his enemies, and the
hairy scalp of such an one as goeth on still in his
trespasses." - Ps. 68:20, 21.
We gather from the text that death is in the
hand of God; that escapes from death are
manifestations of His divine power and that He is
to be praised for them.
I. THE SOVEREIGN PREROGATIVE OF GOD.
1. To God belongs the right to exercise it.
2. The Lord has the power of this prerogative.
3. The Lord has actually exercised this
prerogative.
4. Let Him have all the glory of it for your
deliverance.
II. THE CHARACTER OF THE SOVEREIGN
IN WHOM THAT PREROGATIVE IS VESTED.
1. Salvation is the most glorious of all God's
designs.
2. The most delightful works which the Lord has
performed have been works of salvation.
3. To those who can call him "Our Lord," He is
specially and emphatically the God of salvation.
III. HEAR THE SOLEMN WARNING OF OUR
SOVEREIGN LORD.
1. He will by no means spare the guilty.
2. He is not indifferent to human character.
3. He has the power to smite those who rebel
against Him.
4. He will smite with a terrible, even an utter,
overthrow. —
C. H. S.

SALVATION BY KNOWING THE TRUTH
"God our Savior: who will have all men to be saved,
and to come unto the knowledge of the truth." - I
Tim. 2:3, 4.
It is the wish of God that all men should be
saved.
I. IT IS BY A KNOWLEDGE OF THE
TRUTH THAT
MEN ARE SAVED.
1. It is a knowledge of the truth.
(a) This knowledge saves him from
carelessness.
(b) This knowledge saves him from
prejudice.
(c) This knowledge saves him from
despair.
2. How a saving knowledge works.
(a) Shows a man his personal need of
being saved.
(b) Reveals the atonement by which we
are saved.
(c) Shows us what that faith is by which
the atonement becomes available for us.
3. How we are to know the truth.
(a) By a believing knowledge.
(b) By a powerful knowledge.
(c) By an experimental knowledge.
II. TWO INFERENCES.
1. To you that are seeking salvation.
2. To you who desire to save sinners.
- C. H. S.
THE PLAIN MAN'S PATHWAY TO PEACE
"And when Jesus departed thence, two blind men
followed him, crying and saying, Thou son of David,
have mercy on us. And when he was come unto
the house, the blind men came to him: and Jesus
saith unto them, Believe ye that I am able to do this?
They said unto him, Yea, Lord. Then touched he
their eyes, saying, According to your faith be it unto
you. And their eyes were opened; and Jesus straitly
charged them, saying, See that no man know it." -
Matt. 9:27-30.
The extreme simplicity of the cure. Conversion as a
work of the Holy Ghost is likewise extremely simple.
I. MANY PERSONS ARE MUCH TROUBLED
IN COMING TO CHRIST.
1. In some cases it is ignorance.
2. In many cases men are hindered by prejudice.
3. With others the hindrance lies in downright
bad teaching.
4. Then there is the natural pride of the
human heart.
5. In some instances the trouble arises from a
singularity of mental conformation.
• 6. Some are kept from coming to Christ through
remarkable assaults of Satan.
II. THIS IS NOT AT ALL ESSENTIAL TO A
REAL SAVING; TO A COMING TO THE
LORD JESUS CHRIST.
1. It is very hard to see how despairing
feelings can be essential to salvation.
2. Much of all this struggling and tumult within,
which some have experienced, is the work of the
devil.
3. Many instances prove that all this law and
work and doubting and fearing and despairing and
being tormented by Satan are not essential,
because there are scores and hundreds of Christians
who came at once to Christ, as these two blind
men did, and to this very day know very little
about these things.
4. There are all the essentials of salvation in the
simple, pleasant, happy way of coming to Jesus just
as you are.
5. The Gospel command implies in itself nothing
of the kind, which some have experienced.
III. THOSE PERSONS WHO ARE
PRIVILEGED TO COME TO JESUS CHRIST
SOFTLY, PLEASANTLY AND HAPPILY, ARE
NOT LOSERS.
1. They may lose a sensational religious
experience, but there is not much in that.
2. Do not suppose that persons who come thus
gently lose something by way of evidence
afterwards.
3. Do not think that those who come gently to
Christ lose a good deal of adaptation for after
usefulness because they will not be able to
sympathize with those who are in deep
perplexity and in awful straits when they are
coming to Christ.
- C. H. S.

ONLY TRUST HIM! ONLY TRUST HIM!
"And as he entered into a certain village, there met
him ten men that were lepers, which stood afar
off, and they lifted up their voices, and said, Jesus,
Master, have mercy on us. And when he saw them,
he said unto them, Go show yourselves unto the
priests. And it came to pass, that, as they went, they
were cleansed." - Luke 17:12-14.
It was required by the Saviour to perform an act
of faith in Him before there was the slightest
evidence in themselves. He had wrought a good
work upon them.
I. WHAT SIGNS ARE COMMONLY LOOKED
FOR BY UNCONVERTED MEN AS REASONS
FOR BELIEVING IN CHRIST?
1. A consciousness of great sin and a horrible
dread of divine wrath, leading to despair.
2. The experience of quite a blaze of joy before
they can trust Christ.
3. Others expect a text to be impressed upon
their minds.
4. Some expect an actual conversion to be
manifest in them before they will trust the
Saviour.
5. Others have an idea that if they were to be
saved they would experience some very singular
sensation.
II. WHAT THE REASON IS FOR OUR
BELIEVING IN JESUS CHRIST.
1. God's witness concerning His Son Jesus
Christ.
2. The next warrant for our believing is Jesus
Christ Himself.
3. Again, the warrant for believing is in the
fact that God commands us to believe.
4. Moreover, there is the promise made to us and
to every creature: "Believe in the Lord Jesus Christ,
and thou shalt be saved."
5. These poor lepers believed because they had
heard of others whom He had cleansed.
III. WHAT IS THE ISSUE OF THIS KIND OF
FAITH THAT I HAVE BEEN PREACHING?
1. The very existence of such a faith as that in the
soul is evidence that there is already a saving
change.
(a) It will be an evidence also that you are
humble.
(b) It will be the best evidence that you
are reconciled to God.
• 2. Before long, sooner or later, you will become
delightfully conscious of the fact that you are
saved.
(a) By simply trusting Christ alone, without
miracles, signs or evidences, you will have within
you a power which will carry you through life
and preserve you in holiness even to the end.
(b) This is faith to die with as well as to live
with; it is to trust because of what Jesus is and not
Because of what you are.
- C. H. S.
JESUS ONLY
"And when they had lifted up their eyes, they saw no
man, save Jesus only." - Matt. 17:8.
The quiet but delightful ordinary fellowship with
"Jesus only," which ought to be the distinguishing
mark of all Christian life, is better for every day
than the excessive strain of the transfiguration glory.
I. WHAT MIGHT HAVE HAPPENED TO THE
THREE DISCIPLES AFTER THEY HAD SEEN
THE TRANSFIGURATION.
1. They might have seen nobody with them on
the holy Mount.
2. When they lifted up their eyes they might
have seen Moses only.
3. As a third alternative, they might have seen
Elijah only.
4. Or they might have seen Moses and Elias with
Jesus.
II. WHAT REALLY DID HAPPEN.
1. "Jesus only" was all they wanted to see for
their corn Fort.
2. "Jesus only" was enough as their power for
future life.
3. "Jesus only" shall be our reward - to be with
Him where He is.
III. WHAT WE ANXIOUSLY DESIRE MAY
HAPPEN TO THOSE WHO HEAR US.
1. For ourselves and fellow Christians, that,
more and more, the great object of our thoughts,
motives and acts may be "Jesus only."
2. For those who are not yet believers in Jesus
our desire is that this may happen to them -that
they may see "Jesus only."
- C. H. S.
FAITH: WHAT IS IT? HOW CAN IT BE
OBTAINED?
"By grace are ye saved through faith." - Ephes.
2:8.
The fountain-head of our salvation is the grace of
God. Faith is the channel along which the flood of
mercy flows down to
Refresh the thirsty sons of men.
I. FAITH, WHAT IS IT?
1. It is made up of three things: knowledge, belief
and trust.
2. It is believing that Christ is what He is said
to be.
3. It is believing that Christ will do what He
has promised.
4. It is expecting this of Him.
5. Sometimes it is little more than a simple
clinging to Christ.
6. Another form of faith is to freely follow Christ
as a leader.
7. Again, one exerts faith in Christ while learning
of Him.
8. A higher form of faith is that which grows out
of love.
9. Again, faith also realizes the presence of the
living
God and Saviour.
10.A firm form of faith arises out of assured
knowledge.
11. This faith makes it easy to commit our soul
and all its Eternal interests into the Saviour's
keeping.
II. WHY FAITH IS SELECTED AS THE
CHANNEL OF SALVATION.
1. Because there is a natural adaptation in
faith to be used as the receiver.
2. Because it gives all the glory to God.
3. Because it is a sure method, linking man with
God.
4. Because it touches the springs of action.
5. Because faith again has the power of
working by love.
6. Because, moreover, faith creates peace and
joy.
III. HOW CAN WE OBTAIN AND INCREASE
OUR FAITH?
1. If you have a difficulty concerning faith,
take it before God in prayer.
2. The Holy Spirit will enable you to believe if
you hear Very frequently and earnestly that which
you are commanded to believe.
3. Next consider the testimony of others.
4. Note the authority upon which you are
commanded To believe.
5. Think over what it is that you have to believe.
6. Think upon the person of Jesus Christ. You
cannot doubt Him.
7. Submit yourself to God. Yield to Him.
- C. H. S.
ALL THINGS ARE READY, COME
"Come, for all things are now ready." - Luke 14:17.
The readiness of everything on God's part is the
argument why men should come and partake of
His grace.
I. IT IS GOD'S HABIT TO HAVE ALL THINGS
READY, WHETHER FOR HIS GUESTS OR FOR
HIS CREATURES.
1. God's thoughts go before men's comings.
2. This also proves how welcome those are who
come.
II. THIS READINESS SHOULD BEAN
ARGUMENT THAT HIS SAINTS SHOULD
COME CONTINUALLY TO HIM TO FIND
NEEDED GRACE.
1. Therefore come to the storehouse of divine
promise.
2. Come next to the mercy-seat in prayer.
3. Christ is always ready to commune with His
people.
4. All things are ready for every daily duty.
5. Those who aspire to a higher degree of
holiness can come.
III. THE PERFECT READINESS OF THE
FEAST OF DIVINE MERCY IS EVIDENTLY
INTENDED TO BE A STRONG ARGUMENT
WITH SINNERS WHY THEY SHOULD COME
AT ONCE.
1. Come, for all things are now ready.
2. Come, for all things are now ready.
3. Come, for all things are now ready.
4. Come, for all things are now ready.
IV. THIS TEXT DISPOSES OF A GREAT DEAL
OF TALK ABOUT THE SINNER'S READINESS
OR UNREADINESS.
1. The unreadiness of those who were bidden
arose out Of their possessions and out of their
abilities.
2. Personal condition does not constitute an
unfitness for Coming to Christ. .
3. It is a great truth that what we regard as
unfitness is often our truest fitness.
- C. H. S.
EVERY MAN'S NEED OF A HIDINGPLACE
Text: "And a man shall be as an hiding-place from
the wind, and a covert from the tempest; as rivers of
water in a dry place, as the shadow of a great rock in
a weary land." - Is. 32:2.
Introduction: The man of this text is the man Christ
Jesus. Every man needs a hiding-place from five
things: The displeasure of God; his own conscience;
the power of sin within; the power of Satan; the
wrath of God.
I. EVERY MAN'S NEED OF A HIDINGPLACE.
1. From the displeasure o f God. All have sinned
and God is holy.
2. From the accusations o f his own conscience.
No torment like the torment of an accusing
conscience. Illustrate from the Bible, literature and
experience. Conscience sometimes sleeps, never
dies; the time of awakening comes. Illustrate.
3. From the power o f sin within. No man is
able in his own strength to overcome the evil
within. Any one who fancies he is, is selfdeceived.
Illustrate.
4. From the power o f Satan. Some people do not
believe there is a devil.
(a) The teaching of the Bible;
(b) evidence of the devil's existence all around
us; the devil is too cunning and too strong for us.
5. From the wrath of God. Many in this day
do not believe in the wrath to come.
(a) The Bible teaches it and it is safe to
depend upon the Bible;
(b) common sense also teaches it.
II. CHRIST THE REFUGE EVERY MANs
NEEDS.
1. Christ is a refuge from the displeasure of God.
(John 3:36.) - Experience.
2. Christ is a refuge from the accusations of
conscience.
3. Christ is a refuge from the power of sin
within. (John 8:36.) Illustrations from life.
4. Christ is a refuge from the power of Satan.
Satan is too strong for us; not strong enough for
Christ. (I John 4:4) Illustrate from life.
5. Christ is a refuge from the wrath to come.
(I Thess. 1:10.) Common sense teaches that the
Christ who can save us from the power of sin here
can save us from the consequences of sin hereafter.
Conclusion: Close with an appeal.
- R. A. T.
REFUGES OF LIES
Text: "The hail shall sweep away the refuge of
lies." -Is. 28:17.
Introduction: Every man needs a refuge from the
displeasure of God, the accusations of his own
conscience, the power of sin within, the power of
Satan and the wrath to come. Almost all men have
something in which they are trusting. How many
are trusting in a false refuge, a refuge of lies!
I. TESTS WHEREBY A REFUGE OF LIES CAN
BE KNOWN.
A true refuge must have five characteristics:
1. It must meet the highest and the fullest
demands of our own conscience; if it does not it is
not a refuge from the accusations of our conscience;
neither is it a refuge from the displeasure of God.
2. Trust in it must make us better men. If our
refuge is not making us better men, it is not a
refuge from the power of sin nor the power of
Satan; neither is it a refuge from the wrath of
God. The refuge that does not save us from the
power of sin here will not save us from the
consequences of sin hereafter.
3. It must stand the test of the dying hour.
4. It must stand the test of the judgment day.
5. It must stand the test of God's Word.
II. REFUGES OF LIES.
1. Trusting in our own goodness. Apply the tests
given above.
2. Other people's badness. "I am not as bad Men."
Apply the tests given above.
3. Hope that God is too good to let any
Apply tests.
4. Infidelity. Apply tests.
5. Religion. To have religion is one thing, to
have Christ is another; many trusting in their
performance of religious duty. Apply tests.
III. CHRIST A TRUE REFUGE.
1. Apply the tests.
Conclusion: Appeal to throw away all confidence
in refuges of lies, and flee to Christ at once.
- R. A. T.
A SOLEMN QUESTION
"Where art thou?" - Gen. 3:9.
God puts to every man and woman a very solemn
question.
I. A QUESTION ALL OUGHT TO ANSWER.
1. We should want to know how we stand
before God.
2. We must answer the question some day.
II. HOW TO CONSIDER AND ANSWER IT.
1. Seriously.
2. Deliberately.
3. Honestly.
4. Prayerfully.
5. Scripturally.
III. THE MOST IMPORTANT POINTS TO
CONSIDER IN REGARD TO OUR STANDING.
1. Are you saved or are you lost?
2. Are you a child of God or a child of the
devil?
3. Are you for Christ or against Him?
4. Are you an earnest, consecrated Christian
or a lukewarm and worldly one?
Conclusion:
1. Some know where they are-saved.
2. Others cannot answer the question so.
3. Answer the question definitely and at once.
R. A. T.
WHAT IT COSTS NOT TO BE A CHRISTIAN
Introduction: Show the folly of making ventures in
all phases of life without counting the cost.
I. IT COSTS THE SACRIFICE OF PEACE OF
CONSCIENCE. (Isaiah 57:21.)
II. IT COSTS THE SACRIFICE OF THE
SENSE OF PERFECT SECURITY WHICH THE
CHRISTIAN ENJOYS. (Isaiah 26:3.)
III. IT COSTS THE SACRIFICE OF THE
HIGHEST JOY
SOUL IS CAPABLE. (I Peter 1:18.)
IV. IT COSTS THE SACRIFICE OF THE
HOPE THE CHRISTIAN HAS. (Titus 1:2; I Peter
1:4; Rom. 8:17.)
V. IT COSTS THE SACRIFICE OF THE
HIGHEST MANHOOD AND WOMANHOOD.
VI. IT COSTS THE SACRIFICE OF GOD'S
FAVOR. (Heb. 11: 6).
VII. IT COSTS THE SACRIFICE OF CHRIST'S
ACKNOWLEDGMENT. (Matt. 10:32, 33.)
VIII. IT COSTS THE SACRIFICE OF
ETERNAL LIFE.
These outlines were complied by the late Evangelist R.A. Torrey