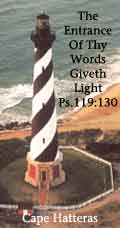 Dedicated To The Men of God Who Preach the Word of God As It Is To Men As They Are

THE PURPOSE, OF CHRIST'S SECOND COMING

"Where is he that is born King of the Jesus" (Matt. 2:2).
He Is Coming:
1.. To Complete the Salvation of the Saints
"For our conversation (citizenship) is in heaven; from whence we look for the Saviour, thie Lord Jesus Christ: who shall change our vile body (the body of our humiliation), that it may be fashioned like unto his glorious body, according to the working whereby he is able even to subdue all things unto himself" (Phil. 3:20, 21; Rom. 8:22, 23; Heb. 9:28; I Peter 1:5).
2. To Be Glorified in His Saints
"He shall come to be glorified in his saints" (II Thess. 1:10).
3. To Be Admired in Them That Believe
"When he shall come to be glorified in his saints, and to be admired in all them that believe" (II Thess. 1:10). 4. To Bring to Light the Hidden Things of Darkness "Therefore judge nothing before the time, until the Lord come, who both will bring to light the hidden things of darkness, and will make manifest the counsels of the hearts" (I Cor. 4:5).
5. To Judge All Men
"For the Father judgeth no man, but hath committed all judgment unto the Son" (John 5:22; II Tim. 4:1; Jude 14, 15; Rev. 20:11-13).
6. To Destroy Death
"For he must reign; till he hath put all enemies under his feet. The last enemy that shall be destroyed is death" (I Cor. 15:25, 26).
7. To Reign As King "The Kingdoms of this world are become the kingdoms of our Lord and Of his Christ; and he shall reign for ever and ever" (Rev.11:15; Isa. 24:23; Dan. 7:14).